We are excited to partner with Microsoft to offer
Test on Microsoft Edge Online
Forget Edge emulators. Test websites on real Edge browsers (15-98) installed on real Windows devices – both desktop and mobile.
Sign up for free & start testing!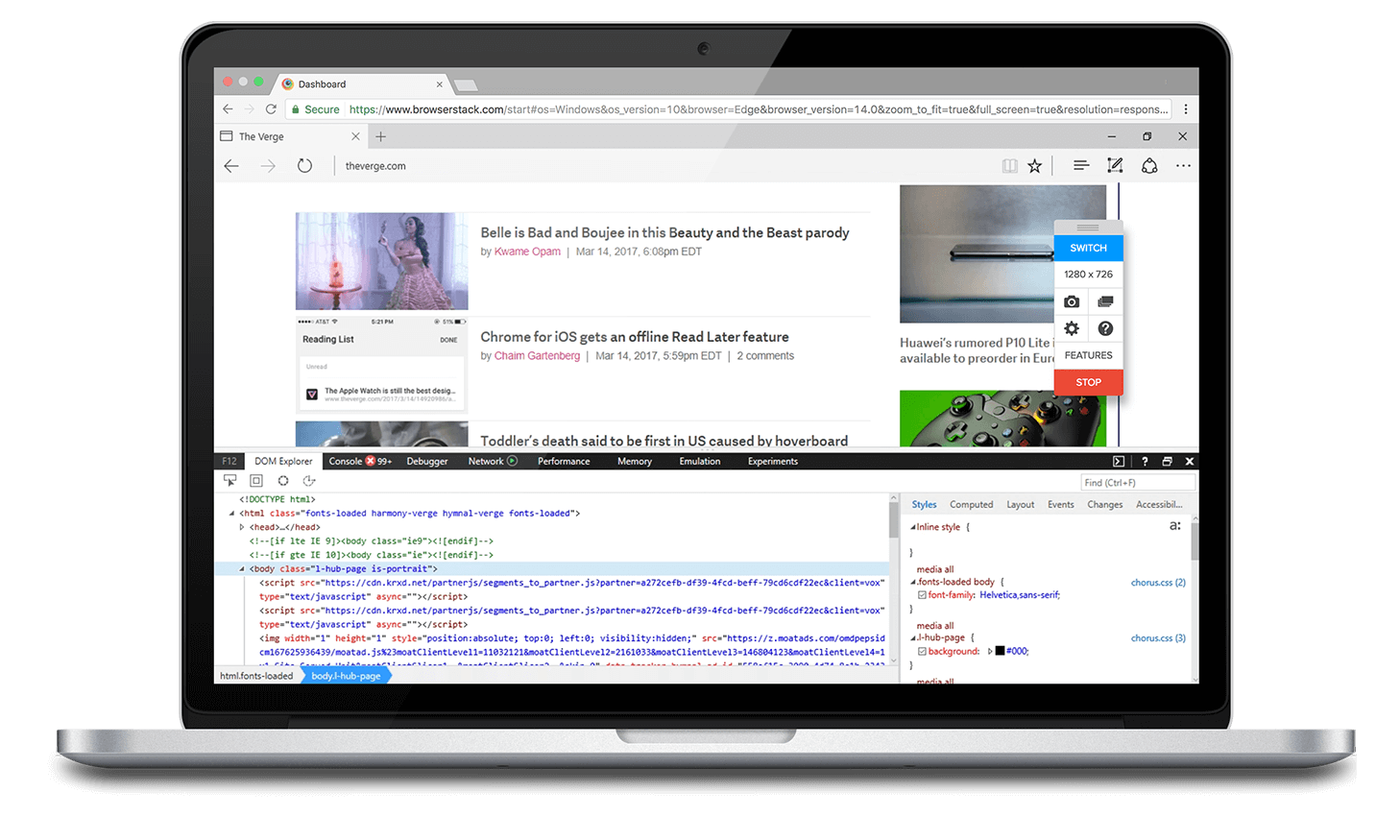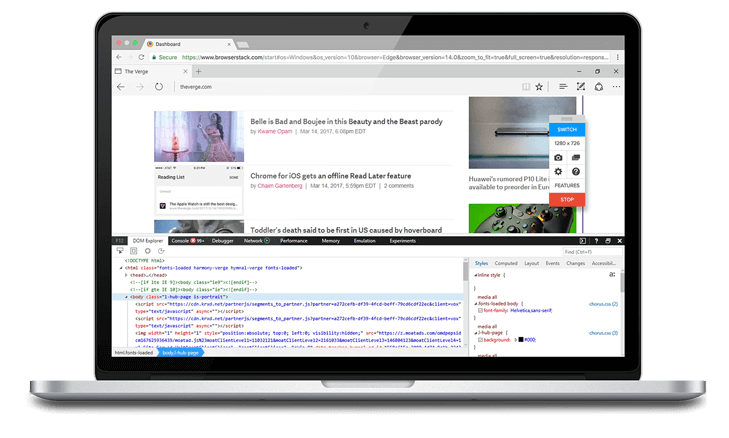 Edge Browser Versions we support
List of Microsoft Edge Browser Versions available for testing on.
Instantly testing websites on Microsoft Edge
Developers no longer have to rely on virtual machines (VM), Edge emulators or purchase multiple Windows devices to test websites on Microsoft Edge. BrowserStack's cloud-based infrastructure allows users to instantly test and ship great user experiences on Edge. Test on real Edge browsers, installed on real Windows – online.
Frequently Asked Questions
As of Oct 2021, Microsoft Edge holds 6.18% of the global browser market. However, its market share is steadily growing. Since April 2020, it has grown by 1300% and surpassed Firefox. Needless to say, more and more people are using Edge and looking for it enough to stick with it. 
Additionally, Microsoft Edge also comes with rich features and speed optimizations that may not be available on other browsers (at least, not to the same extent). Edge is also the default browser for Windows, and it is safe to assume that many people using that OS will also be using Edge. 
Therefore, QAs must test websites on Microsoft Edge browser online so as to ensure that they render and function perfectly on this increasingly popular browser with its unique features and offerings.
Essentially, an Edge emulator replicates the fundamental features of a Microsoft Edge browser on a laptop or desktop computer. For example, you can use an Edge emulator on your Chrome browser on your Mac in order to check how your website would look/feel on Edge. 
Sounds easy? It is, only for testing a limited set of features. A Microsoft Edge emulator cannot be relied on to comprehensively test a website's performance. It is not capable of replicating the actual browser or device specifications. For example, it cannot be used to test how a site would react when being accessed via a mobile device that is on low battery. Or, how it would work when the device only has access to a 2G network. 
Conclusive, comprehensive website testing requires actual Edge browsers, not Edge emulators.
Emulators and simulators, including Edge simulators and emulators, are a watered-down version of the browser in question and do not replicate all features of the said browser. Additionally, when installed on different devices and operating systems, the browser must adjust and align with various hardware and software specifications – something the emulator/simulator cannot offer while testing. 
Emulators and simulators also run on a PC and use the LAN and internet access of that device, which is usually quite robust. However, in the real world, the website will have to render on mobile browsers that may not have access to high-speed internet. Therefore, it is not possible to judge website performance in weak network scenarios. 
Furthermore, when running on mobile devices, Edge will have to run on limited resources, particularly CPU and memory. If a website is not tested on Edge running in these conditions, it will inevitably fail in real user conditions. This is also true for other network-related features like calls, incoming messages, etc. Native devices features like low battery also cannot be tested via emulators/simulators.
Microsoft Edge is the default browser on Windows 10. However, if you are using any other Windows OS version or even a Mac, it is still possible to test on Microsoft Edge online. Simply use a real device cloud like the one offered by BrowserStack.

Of course, you can do the same by using Edge emulators and simulators. But, as explained previously, the test results would be inconclusive and the product would not be ready for public release. You'd end up with a bug-ridden, error-prone website that will offer a shoddy, sub-par user experience.
BrowserStack has partnered with Microsoft to offer free Edge browser testing for up to 3 months. In fact, Microsoft itself recommends testing Edge browser on BrowserStack.

Simply sign up for free on BrowserStack. Once you have an account, you will be able to access 3000+ real browsers and devices for testing. Alongside Edge, you can also testing on major browsers like Chrome, Firefox, Safari, Opera and more. 
Each browser is installed on real desktop and mobile devices, including the latest iOS and Android devices. They are also installed with multiple versions of each browser and operating system, thus allowing you to test on thousands of device-browser combinations and prepare your website for the real world.
Simple. Use BrowserStack's real device cloud with 3000+ real browsers and devices to test on Edge browser online. 
Navigate to the device and browser dashboard, which displays all options for testing. 

Select the device you want. 

Select the Edge browser on said device to test on. 

Select the Edge browser version

Start testing. 
Repeat the process on different devices and operating systems, for making your website cross-platform compatible.