What defines us
Solve real problems
We solve real problems that matter to our customers and us. We don't chase ideas and trends. We solve problems for long-term value creation over short-term results.
Be open and respectful
Be open to diverse views, listen attentively, speak candidly and treat others with respect. Be transparent in all interactions and share information freely.
Build trust and collaborate
Strong competence and character help us extend and earn trust. Deep collaboration and teamwork are key ingredients to success.
Believe in simple
Think and act Simple.
Customer obsession
We start with customers and work backwards. Customer comes before BrowserStack, team and self.
Speed matters
We are biased towards action and results.
Deep dive
Deep dive enables us to stay connected to the details. No task is beneath us.
Take logical and analytical decisions
We take logical and analytical decisions in the best interest of BrowserStack. We must minimize our biases and presumptions while making a good judgement.
Be self-honest and accept failure
Be self-honest to accept failures even when it is awkward and embarrassing, and have the courage to change.
Be with the best
We surround ourselves with the best people, technology and tools to achieve something special together at BrowserStack.
Embrace constraints
Constraints breed resourcefulness, self-sufficiency and creative solutions. Spend wisely.
Less is more
Focus on the few that are truly important and meaningful to create significant impact.
Deliver awesome results
Focus on the key inputs and results. Deliver with an awesome quality and in a timely manner. Despite difficulties, rise to the occasion and never compromise.
There's never a dull day here. I get to explore and solve unfamiliar problems. I've learnt to optimise time and be more efficient. Plus, I love the open culture and lack of politics! I love that BrowserStack is data driven and nimble. If you have a good idea, you can make an impact faster than at any other organization I've seen. It's incredible. A strong engineering core seeds fresh design challenges and creates an open culture that unequivocally stresses on solving real problems. There is exposure to different areas of business and continuous learning from projects across product, growth, marketing & sales. I like the agile execution and the culture of being data-driven. In the three years that I've been here, I've used various languages, crafted seamless hardware & software integrations and built a unique data center. Never a dull moment!

- Snehal Patel

, Product

- Brendan O'Rourke

, Sales

- Lokesh Khemani

, Design

- Chintan Doshi

, Business Operations

- Dhimil Gosalia

, Engineering
Perks and benefits
Attractive compensation
Highly competitive salary
Medical insurance
Comprehensive medical insurance
for you and your family
Exponential growth
Non-stop learning and career growth
Unlimited Time Off
Unlimited Time Off policy for employees
Remote First Organization
Remote first organisation with regular onsite cadence for our employees
Tools of the trade
The best in class technology and tools for your work
Conference opportunities
Sponsored travel to speak at conferences
Facts and figures
5 million
developer sign ups
60 million
tests per month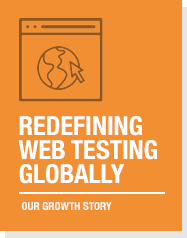 Our growth story
Since launching in late 2011, we are honored to have seen exponential customer growth from both individual developers and some of the most well respected companies in the world.
Read now
See yourself Fitting In ?
Join our growing tribe