Test in Real User Conditions
Go beyond browser/OS compatibility. Test in the
real world context with BrowserStack.
Trusted by more than 50,000 customers globally
GPS and IP Geolocation
Tailor end-user experience in real-time, based on location data.
Geofencing
Are the right notifications triggered when users cross a defined perimeter?
Geotargeting
Does the app refresh to show relevant content for the user's current location?
Geotagging
Does your web/mobile app tag the right location to media?
Geoblocking
Does your web/mobile app restrict access to content based on location?
Network simulation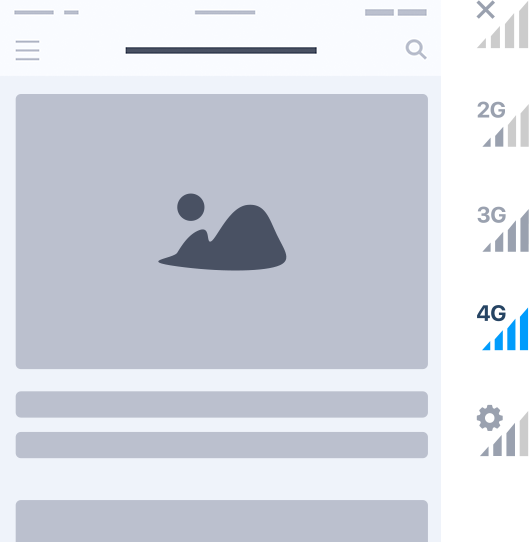 Optimize site and app performance for any network condition. Test your UI and functionalities a cloud of 3000+ real mobile devices and browsers using:
Preset network profiles: Test on 2G, 3G and 4G networks.
Custom network profiles: Adjust bandwidth, latency and packet loss.
Localization features
Adapt your mobile experience for international users. Configure device locale settings and test:
Timezones: See how changing device time affects your app's logic.
Language: See how changing device language affects content, input language etc.
Payment workflows
Ensure error-free payments by testing:
In-app purchases: See if premium app features become available after purchases through Play Store and App Store.
Google Pay flow: Ensure a working integration with Google Pay.
Natural interactions
Interact with the remote devices in our Real Device Cloud, just as you would with a device in hand. Test web and mobile app behavior in different:
Device orientations: See how the front-end adapts to fit landscape and portrait modes.
Touch gestures: Test UI response to interactions like tap, scroll, zoom, swipe, and more.
Apps and system interactions
Test how your apps behave on a wide range of real Android and iOS devices on our cloud. Easily validate:
Push notifications: Test triggers, delivery and user controls on real iOS and Android devices.
Inter-app dependencies: Verify that users are prompted to install an app when needed.