Mobile Testing Lab
Instantly access a remote mobile device lab on the cloud, always available for testing.
Our mobile testing lab is constantly updated with the latest and best of Android and iOS devices, like iPhone, Pixel, and Samsung Galaxy.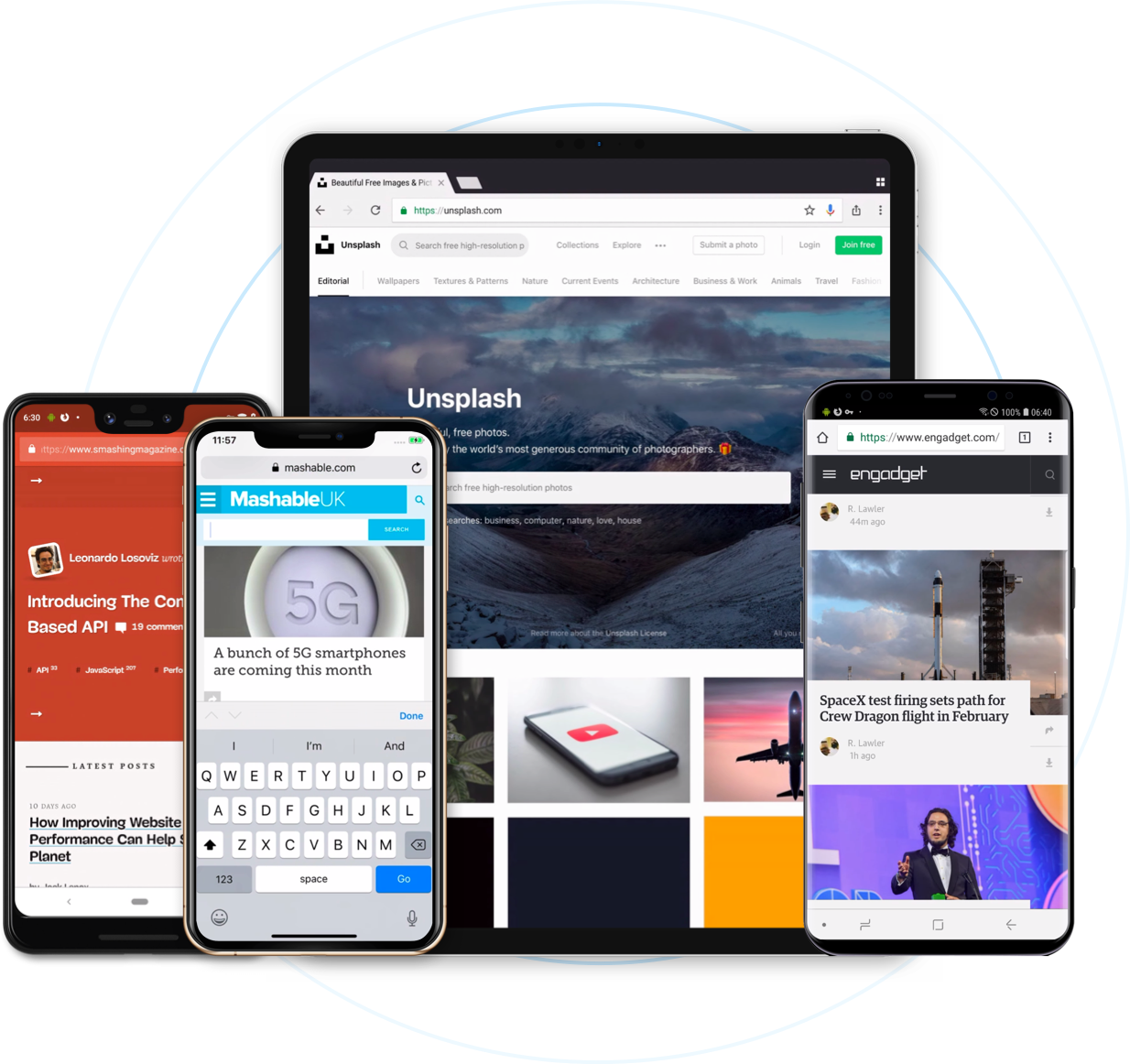 Trusted by more than 50,000 customers globally
Benefits
Replace your mobile device labs
Mobile devices are available for everyone, all the time, without any setup. View all mobile features
Responsive testing
Check your site across device sizes, viewports and resolutions. Test now.
Instant Access to Real Devices
No queues for testing. Pick a mobile device and start testing. List of devices to test on.
Frequently Asked Questions
It is a lab or device center that provides software testing teams with an extensive range of cross-platform mobile devices (Android, iOS, Windows). Essentially, it facilitates manual and automated testing of applications in real user conditions.
With constantly changing trends in the mobile industry, teams need to ensure that their apps are compatible with the latest devices. For this, developers and testers need access to a range of latest cross-platform (Android, iOS) devices for testing their apps. 
Testing on real devices generates accurate test results and helps identify bugs that an end-user might encounter in real-time usage. Thus, developers and testers prefer having access to Mobile Testing Labs in order to roll out robust applications with top-notch user experience.
Teams and organizations must pay attention to market trends in the mobile industry. They must research market statistics and accordingly choose mobile devices with OEMs, OS versions, screen resolutions that are popular with their user base.

With the increasing number of devices in a WiFi network, problems show up if these devices have to transfer data at the same time. Since most WiFi access points are usually not built for processing such high bandwidth, it is likely that users will see different types of timeouts on server responses.




Since speed is of the essence when it comes to software release, any mobile testing lab must include infrastructure for automated app testing. This accelerates testing, expands test coverage, and provides faster resolution of bugs. 
If teams choose to utilize on-premise device labs for testing, they (or the company) need to invest time and money in purchasing, maintaining, and updating devices at regular intervals.
If this is not feasible, teams can opt for a remote device lab that offers them extensive test infrastructure that is updated at regular intervals. By doing so, testers get access to the latest devices without having to worry about maintaining or updating them. They simply purchase a plan, log in, choose the right devices, and start testing. Users can also access the remote device lab from any location, inside or outside the office.

Remote mobile testing labs allow teams to test on a wide range of mobiles and tablets running on unique platforms (Android, iOS, etc.). This ensures that teams can test their apps in multiple conditions. Since remote mobile testing labs also allow automated testing, this enables testers to release bug-free apps faster. 

Considering the cost-effectiveness and flexibility achieved by adopting the cloud testing approach, more teams are choosing to use cloud-based mobile testing labs. Evidence of this is reflected in the fact that cloud system infrastructure services are predicted to be the fastest-growing market segment by 2022, as per Gartner.

BrowserStack provides teams with a test infrastructure geared for comprehensive manual and automated testing of apps. Developers and testers can choose from a range of real mobiles, tablets, and desktops running on unique platforms (Android, iOS, Windows, macOS, etc.). 
The cloud is also constantly updated with the latest and most frequently used Android and iOS devices from vendors like OnePlus, Samsung, Google, Apple, and numerous others.
BrowserStack also provides integrations with popular bug-reporting tools like Jira, Trello, and Slack. This ensures that testers can streamline their test cycles effectively, communicate seamlessly with other members, and release apps faster in the market.