Mobile Testing Cloud
Get instant access to Mobile Testing on the Cloud.
Our Mobile Testing Cloud is constantly updated with the latest and best Android and iOS devices, like Pixel 7, Galaxy S22, and iPhone 14.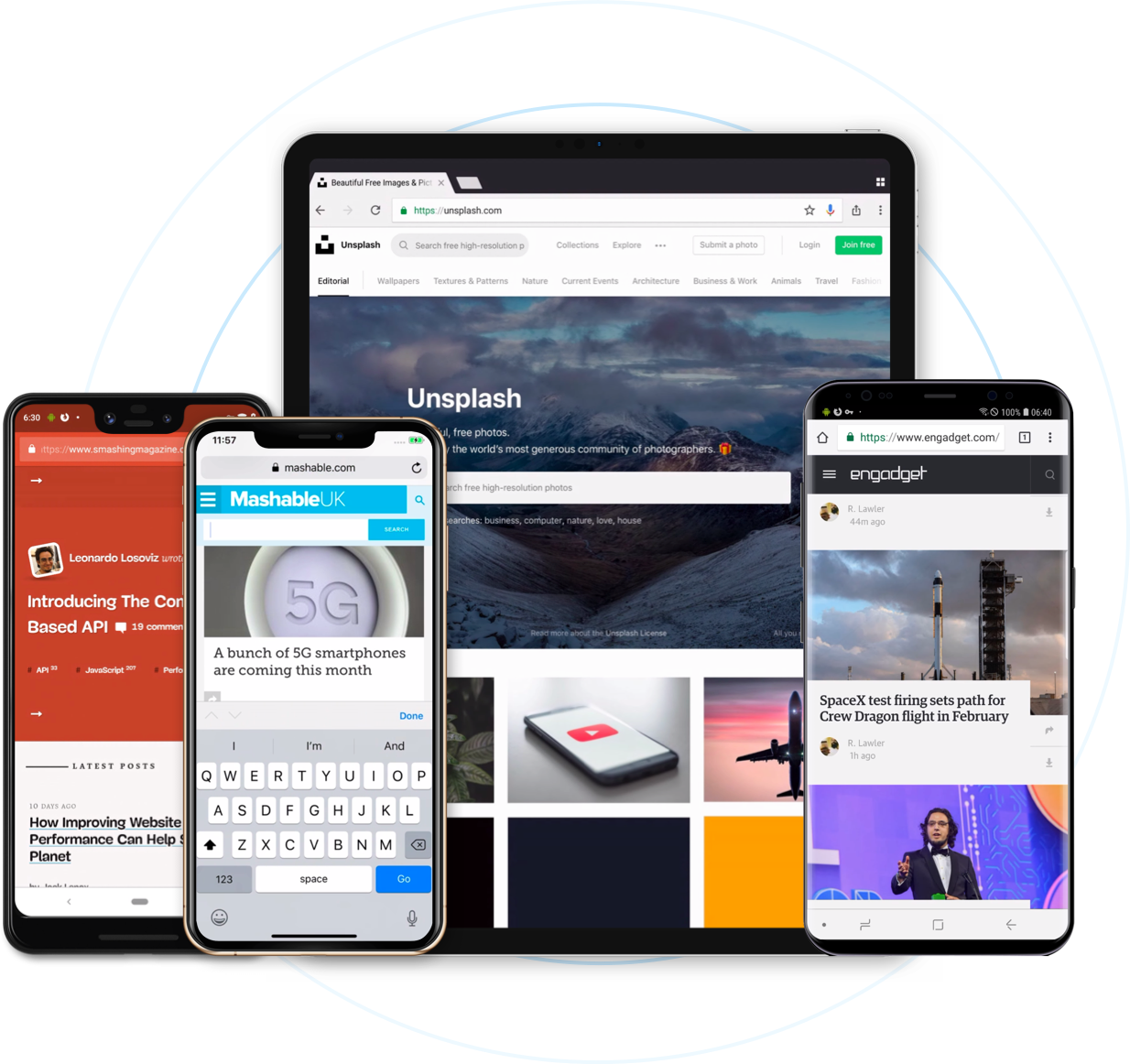 Trusted by more than 50,000 customers globally
Benefits
Works Out-of-the-Box
Mobile devices are available for everyone, all the time, without any setup. View all mobile features
Responsive Testing
Check your site across device sizes, viewports and resolutions. Test now.
Instant Access to Real Devices
No queues for testing. Pick a mobile device and start testing. List of devices to test on.
Frequently Asked Questions
In layman's terms, Cloud Mobile Testing refers to using cloud services to build a highly scalable test infrastructure. This cloud based mobile testing infrastructure is responsible for hosting actual mobile devices (Android, iOS) or emulators. These devices and emulators are made available 24×7 for teams and individuals across the globe for testing web and mobile applications on desired browsers, platforms, and handsets.
Using a Mobile Testing Cloud eliminates the need for building and maintaining an on-premise mobile devices lab. Teams do not need to worry about investing significant capital in setting up, maintaining, and updating the lab with real Android and iOS handsets. Adopting cloud-based mobile testing offers a more cost-effective solution, especially for growing organizations. 
The key benefits are:
Zero-cost setup and maintenance

Allows running of parallel tests on multiple mobile devices simultaneously

Allows testing of apps or websites on cross-platform mobile devices (Android and iOS)

Teams can broaden their device coverage by testing the latest iOS & Android devices with new OS's

Real device access helps teams discover critical bugs faster, remotely. 

Results in faster releases as QA teams can collaborate faster on a single platform. 
Enterprises need to ensure that any software carrying their brand name delivers a flawless user experience to every single user. Any enterprise's credibility and revenue stream depend on its brand recognition, which, in this age, is closely tied to the quality and service its software provides. For example, a bank will not do too well in the digital age if its app crashes every time it experiences a surge in logins. 
Additionally, enterprise-level applications are complex and demand continuous testing to deliver a quality product. This can be achieved only when teams use a dedicated test infrastructure that enables them to perform comprehensive testing at any time.

Adopting a cloud-based mobile testing platform for enterprises is a sensible solution to address these issues. It allows teams of all sizes to test software across a range of devices from one single test plan.
There is no such thing as the right time when planning to adopt a Mobile Testing Cloud, as it is a time and cost-effective solution for everyone. However, cloud-based mobile testing is best suited for software teams (small scale in particular) that seek to test apps or websites on a wide range of real Android and iOS devices but cannot afford to maintain an on-premise device lab. 
BrowserStack's real device cloud empowers teams and individual testers to test across 3000+ real devices and browsers, including both the latest and legacy versions of Android and iOS devices. Teams can either test manually on the desired device or run automated parallel tests across multiple devices using a Cloud Selenium Grid. 
When testers can access many cross-platform devices, achieving comprehensive test coverage becomes much easier. Additionally, teams can scale up testing with parallel tests to speed up their release cycles. Sign up for free.