Why Automate a Video Streaming Test?
By Shormistha Chatterjee, Community Contributor - December 8, 2022
Giving users the freedom and pleasure to glimpse their favorite content video on preferred gadgets with the convenience of time, video streaming lucratively gained interest and fame across generations. Unlike most businesses, the outbreak of Covid-19 and the ensuing shutdown changed the entertainment and media industry forever. 2020 was the year of OTT and on-demand video streaming culture, with movie theatres and cineplexes closing down.
The video streaming sector hit USD 72.2 billion in 2021, with most of the income from the USA. It is estimated to hit USD 115 billion by the year 2026.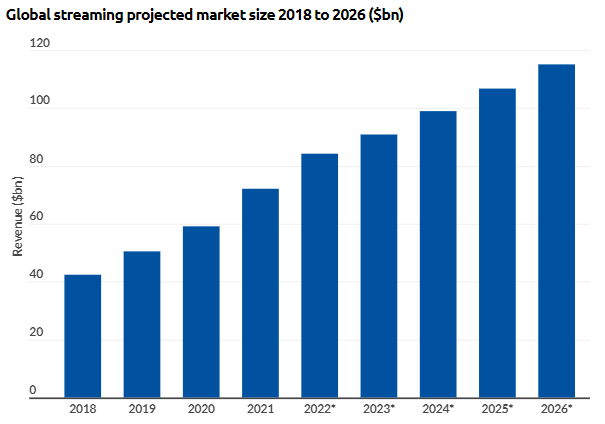 That being said, let's dive deep into the need to automate a video streaming test in a highly competitive market.
What is Video Streaming?
Video streaming is a technology that enables users of Internet-linked devices to view audio-visual content with zero requirements to download it to their devices. Streaming enables video files to be transmitted to a web browser and play the video in real-time. without saving it locally.
Competitive Landscape
The market is fragmented and comes with OTT challenges, such as countless content and media companies leaping onto the streaming TV bandwagon.

The global market is becoming progressively hyper-competitive, creating the need for better quality content to keep customers hooked.

The focus is on product advancement and innovation to gain visitors' attention.

Key players are Amazon, Netflix Inc., Spotify, Disney+ Hotstar, Apple TV, Roku, etc.
The Principles of Livestreaming Videos
Seven tips to make the most of live video for engaging a viewer with correct action.
Keep it Simple:

Live streaming does not have to be expensive or complex; loads of free services will fulfill your requirements.

Thin-slice the Viewers: Incredibly few brands will be able to produce content that has mass appeal. If you wish to take benefit of FOMO (that speedily escalating outbreak: fear of missing out), create psychographically centric content.
Pick Your Team: A development in-house team may assist you if you wish to build and manage an app for the extended term. This approach is appropriate in terms of having a sufficient budget.
Choose a CDN (Content Delivery Network): It is a must-have action if you wish to build a live-streaming app. Even if you think you don't need it, you must also pay for CDN. It will make sure flawless content delivery with zero interruptions.
Appealing UI/UX Design: Remember that appearance means a lot, and the audience will judge your video streaming service as per their first impression. So you must find an experienced software development company or hire highly-skilled UI/UX designers that offer all solutions on a turnkey basis.
Testing Is Vital: The audience won't forgive your errors as today's market proffers a lot of substitutes. A user will find something more consistent and reliable if something works inappropriately. Your live streaming app's QA (quality assurance) should be flawlessly performed.
To keep users happy, sites/ apps that stream video require ensuring higher speed and performance. But, in reality, video streaming often slows down, resulting in a negative user experience.
BrowserStack SpeedLab can be an outstanding choice for video streaming tests as you can assess the quality of video streaming (for SLA compliance purposes, etc.) and allow the operator to promptly identify and remedy glitches affecting video delivery.
Why automate a Video Streaming Test?
Video Streaming test platforms offer significant benefits to users, But there are many noteworthy challenges in testing these platforms manually. Browserstack Automate helps agile teams test for quality at scale by overcoming the following challenges:
With Automate, you can scale as your test grows without being concerned about updating versions, managing capacity, adding devices, and, most importantly, managing stability.

The automated v

ideo streaming test feature is perfectly designed to assess video streaming quality on real-time gadgets connected over Wi-Fi/2G/3G/4G/5G networks by evaluating key performance parameters for video QoE such as Load Time, Launch Time, Total Video Play Time, and Stalled Time.

OTT applications can also be tested from a range of browsers.

Platforms can conduct video quality and functional testing in an automated, continuous manner.

To ensure their compatibility across different browsers, it is critical to perform cross-browser testing on OTT/ Video Streaming apps.

While automating video stream tests, one can scale the complete testing process without requiring more QA engineers in the team.
Achieving more with Smart TV Test Automation with BrowserStack
Using Smart TV test automation, One could also test for:
Features and Functionalities of the app

Device/Browser Compatibility

Better workability and user interface

A diverse range of content

Personalized recommendations and suggestions for content
BrowserStack eliminates the massive effort required to develop and maintain a Smart TV tests grid.
Critical Challenges of Video Streaming Platforms
The following factors can adversely affect video streaming performance:
Network latency & Congestion

– The consumer's device takes an extended time to receive data from the streaming server, or a few sections of the net connection are clogged up.

Client Bandwidth

– A rule of thumb is that video streaming necessitates at least 4 Mbps of effectual bandwidth.

Local Network Problems

– The video stream user might have a slower 3G mobile Internet connection, WiFi, or wired Internet connection. Many users in rural areas or developing countries may have access to slower-speed Internet.

User's Device Performance

– Video streaming needs significant processing speed on the audience device, and a slower device can cause poor video performance.
Hence, it is suggested to test the complete service along with the relevant components for an extensive evaluation.
Types of Testing to Overcome Video Streaming Challenges
1. Automated Testing
OTT Automated Testing is a crucial and effective solution to most QA (Quality Assurance) problems. It can aid in the following ways:
Cross-browser & Cross-device tests.

Scale the complete test process without requiring more testers in the QA team.

Debug the OTT/ Video Streaming applications faster than

manual test

and assist in the faster launch of new products or updates of current products.
2. Functional Testing
A Functional test is a form of software testing that confirms that all the functionalities and traits of the software are working as planned. It is generally conducted using the following steps:
Fixate which functionality or feature you wish to test.

Generate input data for certain functionality

Think of acceptable outcomes that indicate the failure or success of the test

Execute the test cases

Compare the real outcomes of the test with the predefined results.
3. Network Testing
It is crucial to test the performance of Video streaming services in areas with slower network connectivity, high bandwidth, network latency, and other different network conditions. This ensures that the OTT/ Video streaming platform works effectively in all network surroundings.
4. Cross-Browser Testing
The Video Streaming platform should also be tested on various browsers with different browser versions and various devices with varying resolutions, screen sizes, operating systems, etc., to certify that the services are rendered efficiently. You can easily get direct access to test on 3000+ browsers and devices.
5. Load Testing
The Video Streaming/ OTT testers require testing the limit of traffic load that such a platform can bear. This is done to ensure that the OTT platform doesn't crash in the event of the highest traffic load. It chiefly helps scrutinize the software system's stability and response time as the no. of users of the app increases.
6. UI/UX Testing
The QA team must run UI/UX or visual testing to ensure layout constancy and flawless navigation. It is done mainly to ensure that the UI (user interface) is straightforward and stable.
Video Streaming platform renders various services according to the trendy demand across diverse nations. The QA team should check and verify the payment currencies, linguistic accuracy, cultural appropriateness, etc., across countries.
Types of Geolocation Testing:
Geofencing: It can be described as the system forming a virtual geographical fence for the end-user. This fence may or may not emulate the real-time geographical place.
Geotagging: is the procedure to attract a media file to a specific geolocation detail. The media file could be a video, audio, image, or another file.
Geo-Blocking: Based on the user's location, specific contents are restricted to the end-user; this is described as Geoblocking.
Geotargeting: It provides personalized services or content to consumers based on their location.
Geomessaging– It is nothing but a message sent to another gadget, the message contains any text or media content with geolocation data.
Such a platform also needs to be tested for performance-related glitches associated with the platform, for instance, non-responsiveness of the app, crashing of the app, etc.
9. Streaming Testing
Video Streaming testing should be conducted to verify indicators like start time, error rate, bit rate, buffer time, etc.
10. Integration Testing
Sometimes, an application requires multiple exterior functional modules to function efficiently. An Integration test is executed to guarantee that individual functional modules function as expected when working together.
11. Security Testing
The Video Streaming platform uses the user's data like address, name, bank details, etc., to generate an account. It is also necessary to test such a platform for data security.
OTT Future Predictions
Undoubtedly OTT has a bright future and will continue to be the leading and dominant form of media in the coming years. Per specialist predictions, OTT app platform usage will hit the $200 billion industry by 2024. Also, the APAC (Asia Pacific) region will overtake North America by a considerable margin concerning video revenue. People will prefer a Video Streaming/ OTT platform that is easy to navigate and user-friendly instead of a complex UI/UX.
Given the convenience and flexibility, OTT/ Video Streaming industry has been nothing less than phenomenal. It will rule the media and entertainment industry in the coming years. Hence, this is the right time for content owners and broadcasters to venture into automating their video streaming test.
We're sorry to hear that. Please share your feedback so we can do better
Thanks a lot for your feedback!