How to find Bugs on your Mobile App (7 Tips)
By Sanghita Ganguly, Community Contributor - December 2, 2022
According to studies, there are currently 2.9 million mobile apps in the Google Play store and nearly 2 million in the Apple Store. With 5.1 billion mobile phone users, about 90% of the users' mobile usage is time spent on different mobile apps. So, enterprises must ensure that app bugs do not interfere with their product launches.
However, achieving perfection in terms of user experience is not an easy task. It is an iterative process, and there will be trying & testing to identify the bugs on mobile apps and resolve them. This guide will discover the iterative testing phases to identify the bugs on mobile apps and resolve them on a real device cloud.
So the question is, how to find bugs in an app?
Why test Mobile Apps on Real Devices?
Before moving to the testing part, it's essential to understand the need to find bugs on real devices.
When testers and developers test their apps on real devices, it shows how users experience using the mobile application and the problems they face in

real user conditions

. 

It helps to find bugs more effectively and provides complete transparency of application performance. 

Using

emulators/simulators

will not be a reliable solution for testers because it comes with various limitations, such as the inability to mimic battery states or cellular interrupts. 
BrowserStack App Live is designed explicitly for testers and developers to conduct real device cloud testing in the simplest manner.
The latest devices from Android and iOS are always available on the infrastructure, along with famous legacy devices for thorough testing. It's easier to toggle between app configurations such as Device Passcode, Webview UI Inspect, Biometric Authentication, etc.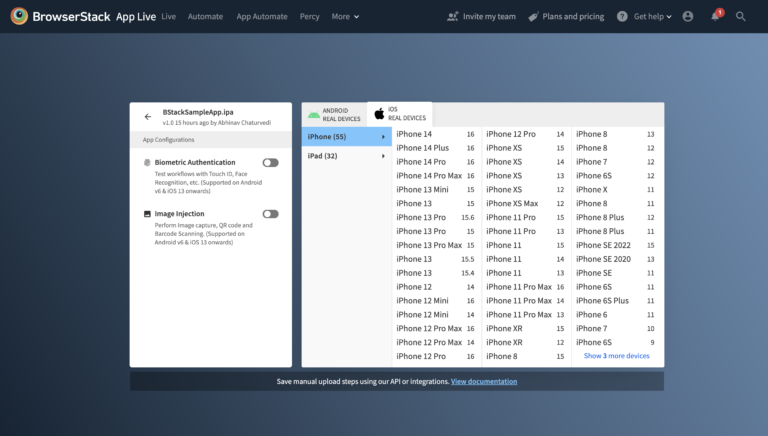 All you need to do is create a free account on BrowserStack, choose a device-OS combination for testing and use advanced testing options like geolocation testing, biometric authentication, network simulation, changing language, preloading image, push notifications, etc, to find app bugs effectively.
Sign Up Free for Real-Device Testing
Common Bugs found in Mobile Apps
Before launching the mobile application on Play Store or App Store for public use, it's essential to check how to find app bugs. For this, some most common bugs can be easily found and resolved on your mobile application. 
Here are some common bugs found in mobile applications:
Crash After Tapping on the Button: The application crashes whenever a user taps on a specific button, and it's the most common bug on mobile apps. This hidden period bomb activates whenever a user clicks on the button. So it's essential to find this particular bug and resolve them.

No Progress Indicator:

No Progress indicator is one of the common bugs found when a user uses an application and wants to download or upload any file, but it's not showing any progress or process when a user clicks on the button. 

Slower Response:

Speed is the most common bug that needs to be considered for mobile applications. If the mobile application takes more than 5-10 seconds to open or process any requests, it can be a major bug that must be resolved.

Different OS Support:

A mobile app should be designed to support Android and iOS. Many mobile applications have these bugs that do not support other OS platforms, hence losing market adoption and revenue.

Portrait & Landscape Orientation:

Mobile applications should be easy to access from both angles, i.e.,

portrait & landscape views

. Another common bug that needs to be considered while improving the readability.  

Error Handling:

When a user is accessing the mobile application, and suddenly the screen shows "error 404" or crashes, it requires improvement and increases the app's efficiency.

Push Notification: Push notifications are the medium to engage with mobile app users and work according to the user's command. But sometimes, the application doesn't send the user's request and does not work properly, and this bug should be resolved. Learn how to test push notifications on real devices.
Native App Permission: Some permission bugs may

 not allow users to access the mobile application. So it's important to understand the importance, resolve the permission issue and allow users to use the application with all permissions, including security, request, SMS, camera, video, and audio. 
7 Tips to find App Bugs on Mobile Devices
How to identify bugs in an app? is the most asked question that every tester & developer wants to know. Here are 7 valuable tips that help to find different type of bugs in mobile apps: 
1. Application Overview
Before finding bugs on any mobile application, ensure you've complete knowledge and understanding of the workings of that particular app flow. Once you know the design and working mechanism, it's easier to find buggy areas where bugs are and plan accordingly. 
Testers must check that every app function is performing exactly as expected. Functional Testing is a broad category that comprises smoke testing, sanity testing, regression testing, usability testing, and so on. 
2. Develop Test Cases
Once you've found all the bugs on your mobile application and created a complete detailed report, start developing and prioritizing test cases they would like to dive deep into.
3. Automated Parallel Testing
Automated testing tools make it easier to do parallel testing on the mobile application without performing manual tasks. Parallel Testing is a process to leverage automation testing capabilities by allowing the execution of the same tests simultaneously in multiple environments, real device combinations, and browser configurations.
4. Obtain Customer Feedback
Gathering customers' feedback helps find app bugs from a neutral and non-biased perspective. These users have prior experience in using the application, and they know where the shortcomings of this application are. Learning from feedback can be the best way to find bugs in apps and improve them accordingly.
5. User Interface (UI) Testing
UI testing is used to analyze the complete performance of a mobile application from start to end. With this testing, you can learn how to find bugs in apps, where the application is lacking, or if it is difficult to access any features.
6. Check Performance under Limited Storage
Sometimes mobile applications start hanging or may become slower because of the lack of storage space in mobile phones. So it's essential to check the performance of your mobile application and see if there is enough space. If not, you need to find a bug that can be resolved by optimizing the storage.
7.  Conduct Repeated Testing
After resolving all the bugs in the application, it's important to save the changes and again check bugs several times in the updated application for better improvement. Allow the users to use this updated application and get genuine feedback to improve accordingly. 
Regression testing is a better alternative to this and should be implemented by every product-based company looking to scale faster.
There you have it. These seven practical tips will help you improve testing efficiency and find app bugs more effectively. Once you've understood the typical bugs and 7 tips,  it's time to implement them and find bugs in your mobile apps.
Closing Notes
Finding bugs in your mobile application is vital for improving its performance before launching it in the market. We hope this guide will help you know how to find bugs in mobile apps and some common bugs in apps.
Needless to say, BrowserStack App Live is a one-stop solution for cloud-based real device testing with 3000+ real browsers and device support for manual and automated testing.
You can do more than just the usual mobile app testing, such as:
We're sorry to hear that. Please share your feedback so we can do better
Thanks a lot for your feedback!